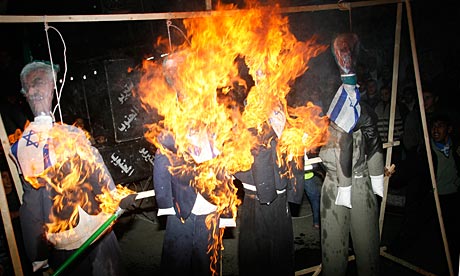 Today, hundreds rallied in Gaza City, burning a photo of Abbas and raising a large picture of al-Jazeera's benefactor, the emir of Qatar.
Salah Bardawil, a Hamas legislator, told the crowd that "those traitors and anyone who is thinking of compromising any of our rights" should be put on trial.

Erekat told the Associated Press today that the investigation into the leaks is still continuing.
Erekat said he has tried to contact the US citizen, but to no avail. "I am not accusing him of anything. We want to investigate him," he said, adding that he had contacted US diplomats for assistance.
Al-Jazeera officials have been unavailable for comment throughout the week. The French national declined comment when contacted by AP, and the former British intelligence officer said he might discuss the issue at a later time.
Many of the leaked documents detail 2008 negotiations between Abbas and Israel's leader at the time, Ehud Olmert. Those talks were cut short by Israel's three-week war on Hamas-ruled Gaza, launched in late 2008, and mounting corruption allegations against Olmert that eventually forced him out of office.